The Rightway to Fly Drones
Two New Drone Services 
Drone Building and Land Inspections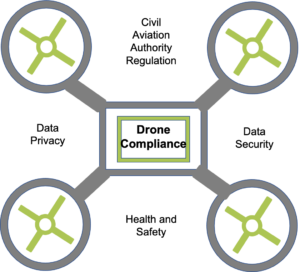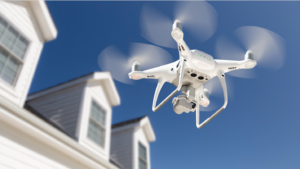 The Civil Aviation Authority (CAA) have just announced increased enforcement action against illegal drone activity. Operation Foreverwing will raise awareness of enforcement work taking place around drones. More than 330 drone-related incidents were recorded during the last five months.
If you are using drones, thinking about using drones or using a 3rd party to fly drones, then it is essential  to make sure your operations are legal and compliant. There are a number of areas of risk and compliance to consider including: Civil Aviation Authority Regulations, Data Privacy, Data Security and Health and Safety.
We can provide an independent health check/audit of your procedures (or those of your third party provider) to provide assurance that your drone operations are legal and compliant.
Our review will look at both the design and operational effectiveness of your policies, procedures and controls for legal and regulatory compliance. Big changes in the regulations governing drone flying were introduced in December 2020 and therefore now is a great time to review your drone compliance.
We can provide drone flight operations to aid your building and land inspection requirements.
So if you are a builder, surveyor, farmer, loss adjustor or anyone who needs to inspect hard to reach areas of buildings or land, we can provide the drone operations to support your professional work.
We can make your life easier by reaching those places that may be impossible or costly to reach safely. Save on the cost of expensive scaffolding or safety equipment. Our drones will send you images and video for you to review from a safe distance. So if you want to give you and your clients a different view of the world why don't you add this new tool to your box.
We are CAA qualified and fully insured.
Private Residential and Commercial work undertaken
No job too small – simple hourly rates starting at £100 for one hour onsite.
Price includes quick turnaround of photos and video (usually within 24 hrs max)
Our drone operations are headed up by Adam Roberts. With a background in film and videography he is well placed to get the best shots for your needs. Please see below his showreel for a taster of what he can produce.
Adam Roberts Show Reel from Adam Roberts on Vimeo.